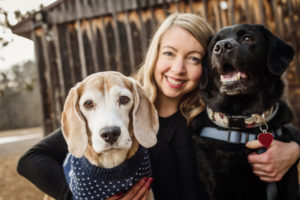 My name is Jennifer McDonald and I was born and raised in Saratoga Springs, NY. I've been fortunate enough to be a dog owner my entire life, experiencing the joy of the unique bonds created between humans and dogs at every phase of my life.
My Professional Life
I support myself is as a graphic and web designer and I am a partner of eVision Digital Marketing based in Queensbury, NY. We specialize in creating websites and online marketing plans for a wide variety of businesses, although I have a special affinity for our many pet-centric businesses. It is truly a privilege to share my love of dogs and animals with some of the clients I work with.
My Dog Lover's Life
I currently own one dog, a black Labrador Retriever named Tucker, who I adore. I lost my beloved beagle, Riley, in January 2019 to Lymphoma cancer and miss him every day. Losing him to canine cancer really opened my eyes to how heartbreaking it is to lose a pet to cancer. Each year, millions of pets are diagnosed with some form of cancer, with devastating effect on them and their human families. Because of this, I have developed a new passion for educating people about cancer and pets.
In my free time I enjoy spending time with family, friends and my boyfriend, volunteering, enjoying the outdoors, cooking, gardening and hanging out with my big goofy Labrador, Tucker, who makes me laugh on a daily basis.
The Birth of Saratoga Dog Lovers
In 2013, I built the SaratogaDogLovers.com website so businesses focusing on dogs in the Saratoga, Clifton Park and Glens Falls areas could create a listing with their company information, allowing dog owners to find pet focused businesses close to home.
As the site grew, I added additional, helpful content, including:
Dog friendly, local events
Animal adoption information
Assistance for lost dogs to find their way home
A blog focusing on helpful, dog related topics
My Volunteer Life
Over the last 9 years I have volunteered and donated my design services to many local, pet-related non-profits such as: Saratoga County Animal Shelter, Friends of SCAS, HOPE Animal Rescue, Estherville Animal Shelter, Friends of the Saratoga Dog Park, Saratoga County K9 Unit, Warren County SPCA and the Beagle Freedom Project. I am currently the President of the Friends of the Saratoga County Animal Shelter, a non-profit that supports the animals at the Saratoga County Animal Shelter.
I am honored and humbled to be a 2017 recipient of the Post Star 20 under 40 Awards. The Post Star 20 under 40 Awards honor people younger than 40 who have demonstrated success and dedication to their careers and who are role models in their trades or communities.
What You Can Do
I believe it is vital to give back to and support your local community in some way. Support can take many forms, including volunteering, annual donations or simply spreading the word about a local animal shelter or non-profit organization. No matter how small your contribution, it takes on profound importance when combined with the efforts of others to make a lasting impression on the world around you. I invite you to explore my website, Saratoga and the surrounding area to discover how you can give back to the community in some way.
I hope you enjoy my website, please feel free to contact me anytime!
Jennifer