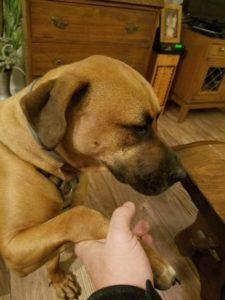 Meet Jackson (DOB 7/28/14, neutered male, brownish tan terrier mix probably Rhodesian Ridgeback, UTD on vaccines, 90 pounds)
Jackson's dad loves him very much and has bonded with him, since rescuing him from the Virgin Islands.  However due to new work related circumstances, his dad is gone extended days and often several days at a time.
While away Jackson must be crated.  However his anxiety is so strong that he chews at the crate.   At the end of the day when Jackson is released from the crate, the tray may have saliva covering it from panting and licking. But if he is left out of the crate, his behavior has been destructive around the house.
In all fairness to Jackson, his dad is looking to find him a family that has experience with large breeds and perhaps has had a dog with severe separation anxiety.  A family in which Jackson is left alone for only short periods of time would be ideal.  Jackson is a gentle giant and very friendly with people.  Jackson has visited with children and other dogs including small breeds.  He keeps his distance from cats but is fine around them.  Because of his size and strength, it would be prudent not to have children younger than teens.
There is a new home and special family out there for Jackson, and it may be you! If you are interested in meeting this handsome boy who lives in Saratoga Springs, NY, Please contact Joette 845-222-3965.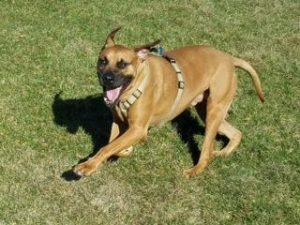 POSTED ON 6-28-18