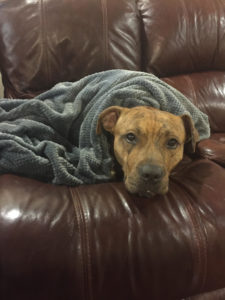 His name is Tommy. He is a 2-3yr old neutered male pit mix. He's a sweet boy who has had a rough road to date. Tommy was a stray in Brooklyn, NY and picked up by animal control. From there he was brought to an overcrowded shelter and immediately put on the kill list since he arrived not only to an overcrowded shelter but also as a sick dog. We pulled Tommy within about an hour before he was going to be euthanized. Once he was shipped up to upstate NY he went to his foster home where he fought a stubborn bronchial pneumonia. After a month of medicine and TLC Tommy began to turn the corner. However, we noticed many fears. We sent him to one of our partner training programs and they quickly informed us that Tommy was absolutely abused badly.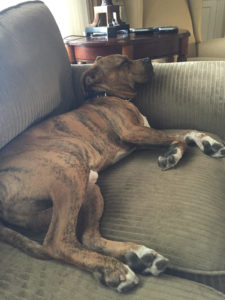 After 8 weeks of training, Tommy is thriving. He absolutely loves and craves affection! He's really a couch potato who loves to sit right next to someone, sleep, go for car rides, EAT, and snack! He craves affection and truly wants to be someone's best friend. Tommy walks well on a leash, is potty trained and knows some basic commands.
Tommy is looking for a home with no small children, no cats and for now we say no dogs. He is completely healthy now, microchipped, up to date on vaccines, neutered and anyone who adopts him will receive a credit with his vet at Homestead Animal Hospital for future routine care. He also comes with food, treats, a leash, his favorite blanket and plush dog bed.
Additionally, Tommy has thrived at his training program and enjoys doing his core exercises that he has learned. The new foster or adopter will receive a free in home lesson as well to show them all that Tommy has learned and also allow them to continue this great training.
Feel free to give out my email and cell
(518)320-2816 to anyone interested.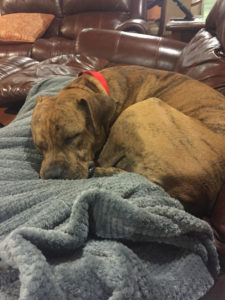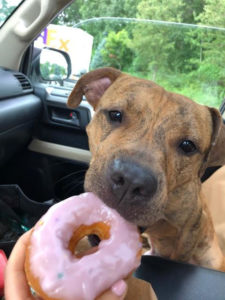 Posted 7/8/18