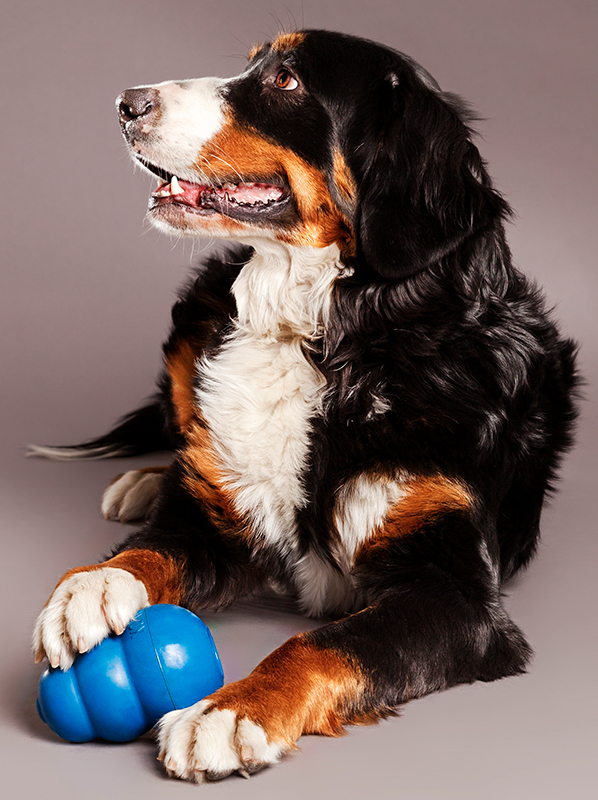 Ah, the Kong! Since the creation of the original Kong dog toy in the 1970s, humans and canines alike have found much to love about this ubiquitous rubber plaything. Whether you're seeking solutions for chronic chewers, an aid for an anxious pooch, or simply a great gift for your best furry friend, a Kong just might be the answer. They're well-suited to dogs of all sizes, ages, and activity levels and are perfect for snack time, training time, or any time. Interested in learning more about these delightful diversions? Read on!
What is a Kong?
The Kong (often stylized as "KONG") is a rubber chew toy for dogs, produced in the United States by Kong Company. If you've spent any time around dogs or their people, you've likely laid eyes on at least one variant of the classic Kong. Their bright colors and distinctive snowman-like shape make for quite a striking impression!
Kongs come in a variety of colors, sizes, and materials, so whatever your dog's characteristics, there's likely to be a Kong that's right for them. Regardless of which model you choose, all Kongs based on the original design will share some common traits. These include its iconic stacked-sphere shape, a strong yet supple rubber material, and a hollow opening near the base of the toy.
What Makes Kong Special?
While the Kong's form certainly makes it an appealing nosh for canine chewers of all sizes, it's that small and unassuming hollow that really sets the Kong apart from the rest. By filling your dog's Kong with a suitably appealing snack, a simple toy can be transformed into a rewarding puzzle, good for hours of enjoyment! What uses can you find for a filled Kong? Here are a few to get you started:
Puppy tore through another pair of good shoes? Treat her to a tasty Kong snack instead. The durable rubber material will hold tough through plenty of play sessions, and she'll find the goods much more rewarding than a worn insole.
Fill a Kong with a special treat and give it to your dog while waiting at the vet. Besides serving as a pleasant distraction, it may help to foster more positive associations with vet visits.
Encourage a sedentary dog with play sessions using a stuffed Kong! The snack provides an extra incentive, and Kong's unpredictable bounce and fun texture should keep them engaged well beyond the first toss.
Tasty Kong Treat Ideas
Ultimately, the appeal of the stuffed Kong lies in its simplicity—it's hard to go wrong with nearly any filling! If you're looking for inspiration, though, we've got your back. Try a few of these snacks on for size:
Frozen Treats
A filling of frozen liquid is a great way to help your pup beat the summer heat, but frozen treats are equally delicious the whole year round. Simply flip your Kong, pour in your desired liquid, and freeze. Frozen chicken or beef broth is tasty by itself or with your favorite add-ins. Or try pureeing leftover fruits and vegetables for a special ice pop for pups. (Of course, you'll want to be sure that any fruits or veggies you use are safe for dogs to consume.)
Proteins
You can't go wrong with a classic—your dog's favorite meats are just as good as here as from the palm of your hand. Of course, there are plenty of other protein options to explore. For a little variety, try scrambled or boiled eggs, bits of cheese, or good old peanut butter. For dogs who enjoy the flavor, Greek yogurt is another delicious option. It's great fresh or frozen, and its probiotic properties may bring extra benefits, as well.
Fruits, Vegetables, and Grains
For dogs who enjoy a plant-based snack now and again, a fruit- or veggie-filled Kong is a great low-fat treat to consider. Try experimenting with your dog's favorites, such as carrots, peas, or potatoes. Well-cooked vegetables can be mashed or puréed for easier filling. If your dog is more of a sweet tooth, consider applesauce, banana, or blueberries. Tender tummies will surely appreciate a Kong filled with canned pumpkin; not only is it delicious, but it's great for soothing digestive woes and regulating bowel movements. Cooked rice or oatmeal is also well-tolerated by most dogs. Try combining these with other ingredients to create a more interesting filling!
Top Kong Tips
While some fillings, such as thick purées, will easily remain inside a Kong, small bits such as kibble may fall out easily when the toy is disturbed. To prevent this, use an edible "paste" to fill the opening and keep the hollow's contents sealed. Peanut butter is great for this! You can also place any small bits within the toy's opening, then add broth and freeze for a surprising mixed treat.
Try experimenting with layered fillings to keep your dog engaged for longer play times. Yogurt and fruit parfait, anyone?
Empty Kongs can be washed between uses on the top rack of your dishwasher.
We hope you've enjoyed learning more about these versatile toys and their many myriad benefits! Why not try out one of our suggested snacks at your pup's next playtime? They'll be sure to thank you for it!
Click here to purchase your Kong on Amazon.com.