What is the Peteast Splash Sprinkler Pad? It's an outdoor sprinkler pool for your furry friend, letting them enjoy a moment of cool down during those hot summer days.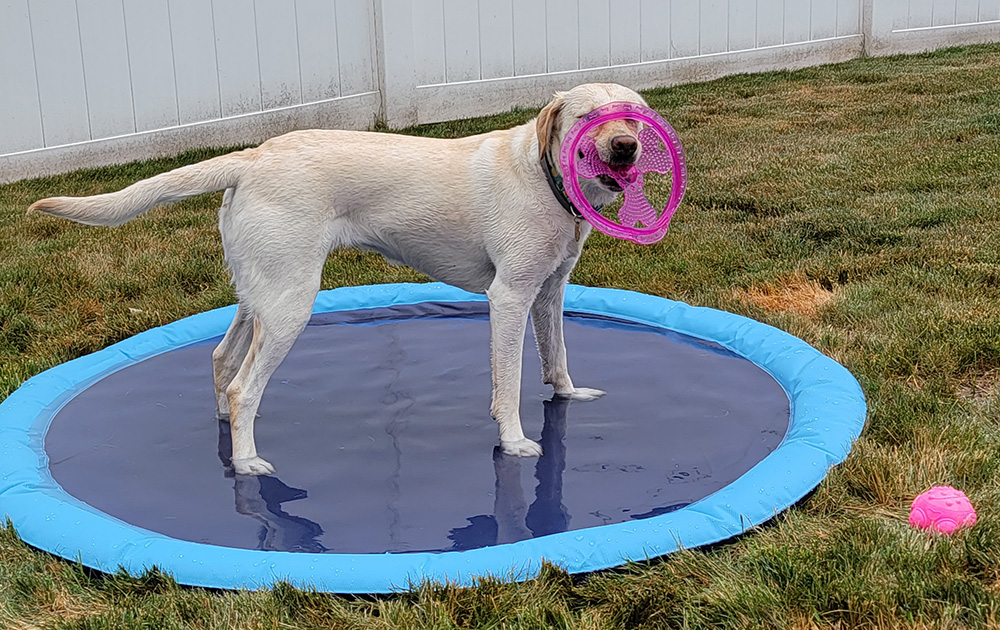 I recently purchased the Peteast Splash Sprinkler Pad for Dogs, Dog Bath Pool Thickened Durable Bathing Tub Pet Summer Outdoor Water Toys on Amazon and here is my review!
5 STARS
The sprinkler splash pad arrived neatly packaged and was super easy to set up. Both of my dogs (both Labradors) love water, one was more hesitant with the sprinkler turned on and the other dove right in! Once the pad/pool is full you can turn the hose off and they can still lay in it or splash around. The sprinkler splash pad comes  in a variety of sizes and I purchased the XXL-67 in. pad. When we were done, the product folded up nicely and stores easily. We may even bring it on our next camping trip. My dogs loved it and I highly recommend getting one for your furry friends too!
Highlights include:
Safe for Dogs – Made of environmentally friendly PVC material, free of BPA and phthalates, the package includes – Sprinkler Pool, Water Pipe Connector, which must be the perfect summer gift for your pets.
Easy to Set Up – Just plug the water mat sprinkler to a garden hose or PVC tubing, and simply adjust water pressure to lower or heighten the spray height. Easy fun water play in summer.
Easy to Carry & Store – This splash pool can be folded up, easy to transport, easy to store and you can bring it with you and your dog/pets everywhere.
Check out this cute video of Tucker enjoying his new sprinkler splash pad. I hope your pup will enjoy it too!
Jennifer, the Saratoga Dog Lover