Update: Duke was adopted from the Saratoga County Animal Shelter on 10/13/13. I am so happy for you Duke!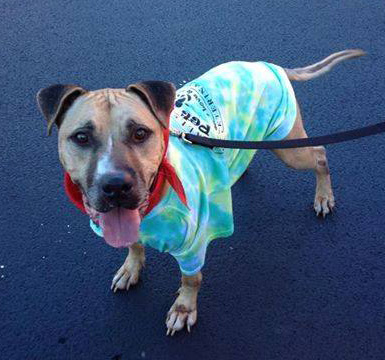 Meet Duke an 8 year old neutered Pitbull mix. He is housebroken, good with kids, cats, and other dogs. Duke was brought to The Saratoga County Animal Shelter because his owner could not afford to care for him anymore.
I choose Duke as a featured dog for adoption because a fellow local dog lover reached out to me after meeting Duke at PetStock last weekend (I also think he has such a sweet and happy looking face).
"This doggie broke my heart at PetStock while trying to find a home. He is the sweetest and cutest dog, I couldn't stop going over to visit him. His name is "Duke". If anyone can open up their home for him, I can promise that I spent many hours with him and he will make you very very happy! All he wants is someone to love."
If you would like to meet Duke call or visit The Saratoga County Animal Shelter Monday – Saturday 10:00am-4:00pm. Please share this post and help Duke find his forever home! Thanks everyone!