For those of you who enjoy spending time in the great outdoors, hiking is a fantastic way not only to enjoy beautiful surroundings, but also to get exercise for you and your dog. Most dogs enjoy being outside even more than we do – hiking gives a brand-new world of smells, sounds and sights for them to discover. Taking your dog along on a hike is a wonderful way to bond, too.
There are a variety of hikes that are easy and enjoyable for you an your dog. We recently hiked Sleeping Beauty Mountain and spotted dogs of all breeds and sizes hiking with their owners. Sleeping Beauty Mountain located on the East side of Lake George is an easy and enjoyable hike that provides spectacular view of Lake George, The Adirondack Mountains and Vermont. For directions and more information on Sleeping Beauty Mountain visit our friend at Adirondackhiker.com.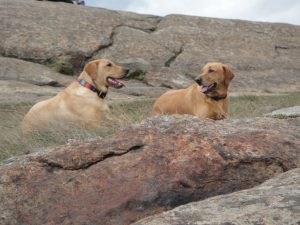 Before you set out, your dog needs to have an ID tag with all of your contact information. You'll also need to remember a leash – most places that allow dogs require them. Here is a list of recommended items to pack for your dog:
An extra collar and leash
Plastic bags (to clean up after your dog)
Basic first aid supplies, such as bandages, fine-tipped tweezers and antibiotic cream
Vet's phone number
Contact information for the closest emergency vet clinic
A photo of your dog (in case it gets lost)
Water & Dog Bowl
Snacks or food (depending on how long you'll be gone)
Dog booties (depending on season and terrain)
Be sure that when you're hiking with your dog, you keep to the trail. You should be keeping to the trail anyway – that's why they're marked  but that way, your dog will be safe.