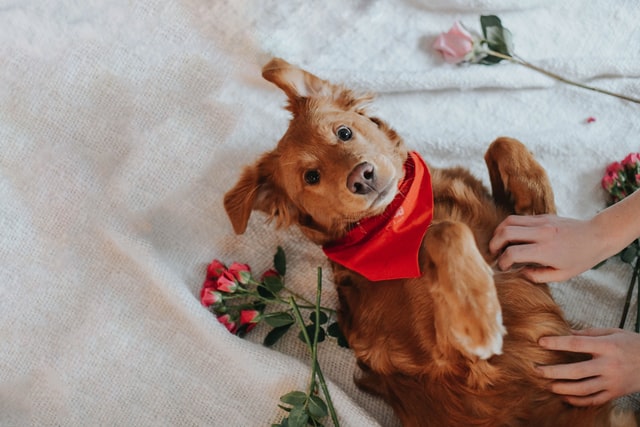 If you want unconditional love, get a dog! This popular saying seems to come true for most people. Your dog is there for you when you are single, in a relationship, married, and sometimes divorced. Your dog is your ride or die buddy, and it's time to pamper them on Valentine's Day to show them how much you appreciate their loyalty!
Here are fun ways to celebrate Valentine's Day with your dog:
Enjoy a Spa Day
Indulge in a relaxing spa day! However, you might need to do this separately. There are doggie spas located in most cities and chances are you can find one nearby that will pamper your dog. Doggie spas services include bathing, nail trimming, haircuts, ear cleaning, de-matting, teeth cleaning, undercoat removal, doggie facials, and massages. You will need to book your spa day at a human-friendly resort and spa for your services.
Eat a Tasty Meal at a Dog-Friendly Restaurant
Dog-friendly restaurants are increasingly becoming popular. Some restaurants allow you to dine inside the restaurant while others have patio settings that are dog friendly. Enjoy a delicious meal with your best friend and loyal companion to help make the day extra special.
Have a Picnic at Your Dog's Favorite Park
Does your dog have a favorite dog park they like to visit? Make them feel extra special on Valentine's Day by bringing along a tasty picnic that your dog will love. Make sure you bring tasty treats in dog-friendly flavors such as bacon, cheese, lamb, and chicken. Make sure you avoid giving your dog chocolate because it's toxic and can lead to serious illness and sometimes death.
Conduct a Photo Shoot with Your Dog
Make it a day to remember with a fun photo session! Dress your dog in a cute outfit that matches or complements yours. Create a cute backdrop with a handmade big red heart and other Valentine's Day-inspired decorations.
Go on a Shopping Spree with Your Dog
Dogs love toys and the more they have the better. Does your dog prefer soft cuddly stuffed animal toys, plastic or interactive? Perhaps your dog enjoys all styles of toys. Surprise your dog by taking them on a shopping spree to your local pet store. Allow your dog to pick out their toys at the store to make them feel extra special.
Go on an Adventure Together
Does your dog prefer to be outdoors? Go on an adventure in the fresh air. Choose to hike a new trail, visit a new dog park or visit a nearby lake or beach. The location depends on the weather in your area on Valentine's Day but you can make the best of it whether you live in a cold or hot climate. Some dogs love snow and others enjoy the beach!
Whether you are single or not your Valentine's Day will be special when you spend it with your dog! Don't forget to pamper your dog as well as yourself. Enjoy the day and make memories with your furry buddy that you will cherish forever!