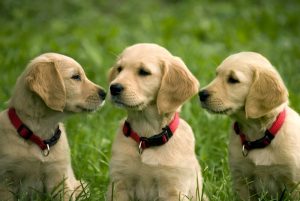 Looking to add a new addition to your family? Puppies are cute, cuddly, friendly, energetic and make great family pets. Knowing how to choose the right puppy can be rather difficult if you have a choice between puppies in a large litter. Below are some tips on how to choose the perfect puppy to bring home with you.
1. Ask yourself….why do you want a puppy?
Often times people make the mistake of buying a puppy because they are so cute and cuddly looking. It is important to understand the breed and personality before going ahead and buying one. There are hundreds of dog breeds to choose from and you want to make sure that you choose a breed that fits with your lifestyle.
2. Are you buying a particular dog breed to show or as a family pet?
Ask the breeder you are interested in getting a puppy from what they breed their dogs for. If you are looking at buying a dog for training and show purposes you want to make sure they either come from a good blood line and/or are attentive. Also make sure you evaluate the dog's physical build, color and markings as those are important show dog qualities to consider.
3. Time to choose your puppy.
Take the time to hold and play with each puppy. Choosing a puppy is similar to choosing a friend. You adapt to people that have similar traits and personalities to yourself. Pick the one that you most identify with and have a good feeling being around.
4. Ask the breeder questions.
The breeder is the one that has spent the most time with the puppies and knows each puppy's personality and traits. They are a valuable resource and can help you figure out how to choose the right puppy. Ask questions like: What are the puppy's characteristics? Does the puppy have good eating habits? Are any of them potty trained? It is good to know what to expect when you choose and bring your puppy home.
If you are looking to add a new four-legged friend to your home and don't have time to train and raise a puppy consider looking into adopting a dog. There are many local shelters in our area that have a variety of dogs in need of forever homes.