Tips on Putting the Woofs and the Wags in Your Wedding Day Festivities!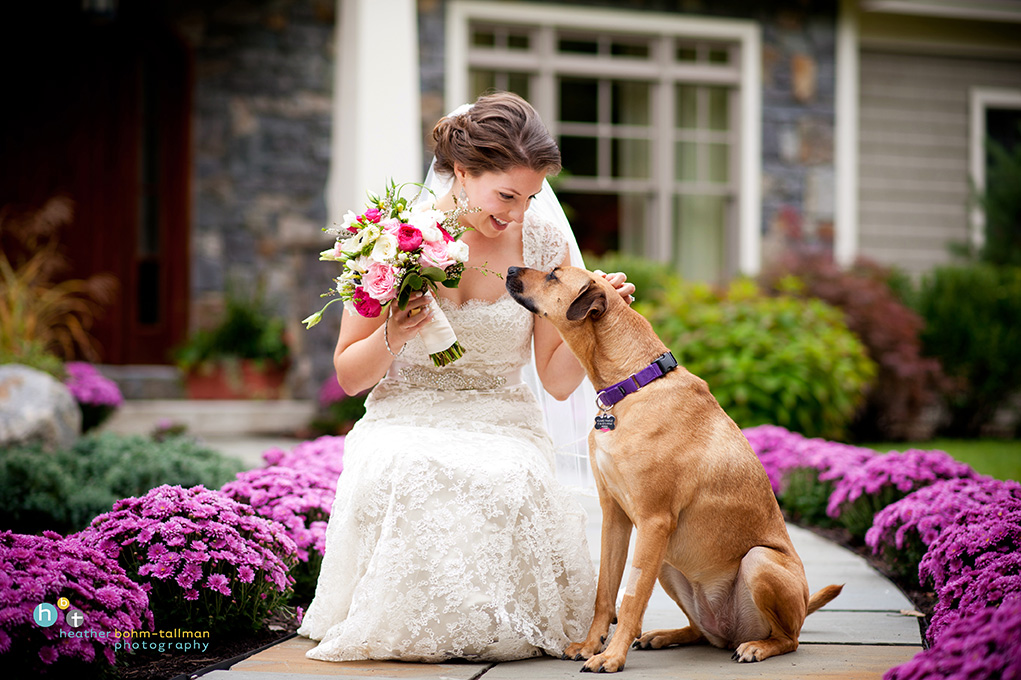 Your dog is your best friend, one who's been with you through thick and thin. It's only natural that you'd want him to be there on your wedding day. But before you hurry out to buy the perfect canine tuxedo, take some time to carefully consider how to include your dog in your wedding day events.
What is Your Dog's Disposition?
Dogs – just like people – have unique personalities and varying degrees of social skills! Think about how your dog behaves with other people, in a group setting, and with other dogs. Things to consider:
Is your dog outgoing and friendly with other people? Or, are they the shy, retiring type who shrinks from too much noise or attention?
If your dog fits the "friendly" description, they will probably do just fine being a part of the celebration. Just be sure that they won't become too exuberant. The last thing you want is for your dog to literally bowl over your guests with affection.
If your dog is the shy type, you can still include them in ways that will be meaningful and create endearing memories for years to come. Including her in engagement and pre-wedding ceremony photos is a wonderful way to have them share your day. If you decide to go this route, be sure to choose a Saratoga wedding photographer who has experience with photographing pets.
Is the Wedding Venue "Fido-Friendly?"
Don't assume that your location will automatically accept a dog on the premises. If you are planning to include your dog in your wedding day festivities, this should be on your list of important questions to ask early in the planning stages.
If you're going to tie the knot outdoors, it's even more important to be prepared and plan ahead. Your dog may be the most well-behaved pet in the world. But, if you put them in an unfamiliar environment without preparing them for it, you could be in for a surprise. A good friends daughter 'recently had her dog in attendance at her oceanfront ceremony. He got "distracted" by some seagulls landing nearby and tore headlong after them into the surf, with the wedding rings in a pouch attached to his collar. So, give your dog as much time as possible to become acclimated to his surroundings beforehand.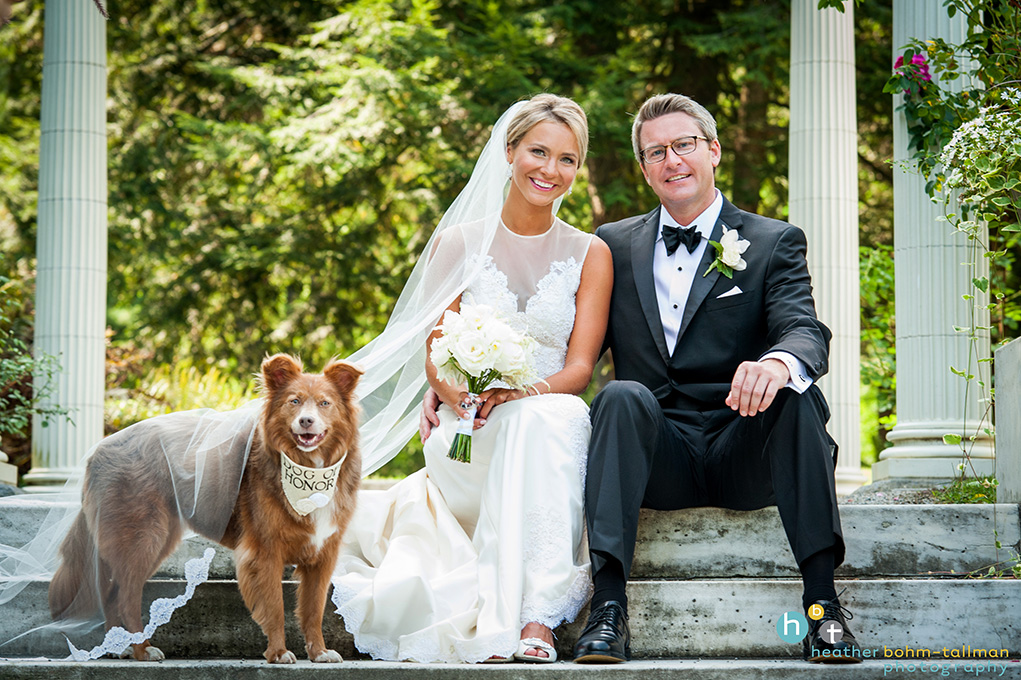 Pick a Role that Your Dog Can Handle Like a Pro
Think about what your dog's strengths are and play to them. If your dog likes to sit pretty for the camera, they can stand alongside the preacher as a special witness while you exchange vows.
If your dog loves to come when you call, they could make a great addition to the bridal party as they parade down the aisle. If they need a little bit of guidance or restraint, you can decorate their leash with flowers and allow them to escort the flower girl or ring bearer.
Have a "Designated Dog Handler" in Attendance
You are going to be very busy on your wedding day, making the rounds of your guests, dancing, cutting the cake, and simply celebrating. Don't assume that you, your new spouse, or members of the bridal party will be able to keep an eye on your dog at the wedding and reception. Have a trusted person in attendance – one who your dog likes and trusts – to look after his needs and make sure he doesn't get into any mischief while the party is in progress.
Finally, Be Considerate of Others
Before including your dog in the ceremony, be sure you are aware of anyone in the bridal party or on the guest list who may be allergic to dogs, or even have a fear of dogs. These people have all committed to sharing in your special day with you, and your responsibility to your bridal party and the comfort of your guests should be uppermost in your mind.
Just as you will learn how to compromise in your new marriage, you may also need to do a little compromising when considering how to include your pet in your wedding day.
Finally, if you need professional help in planning and coordinating all the important details of your wedding day, we recommend calling Donna at On The Go Concierge and Events. She will help you coordinate all the logistics and make sure everything goes smoothly on the day of your wedding. For more information, visit her website, or call Donna at 518-441-2456.