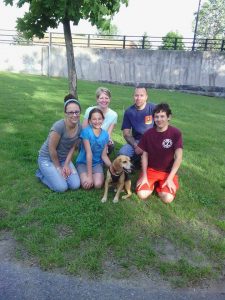 I am SO happy to report that Kodak found his new forever family on May 25, 2014! Thank you so much again Wendy for fostering Kodak for the last few weeks and to everyone who has donated to Kodak's "Paw It Forward" Campaign.
Best wishes to Kodak and his family!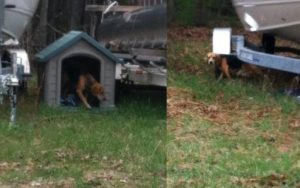 Kodak the beagle  was reported missing in Saratoga on March 22nd and was living outdoors in a wooded area by the Wilton Mall for approximately 2 months when I first shared his story. For the last few weeks Kodak was cared for by a very loving caring family while living outdoors, who thought the owner was trying to catch Kodak and bring him home.
Unfortunately, on May 7th I discovered Kodak's family could no longer afford to keep him.  Working with the girl who was looking after Kodak, we searched frantically  for a rescue or foster home that would accept him if we could catch him in a Have-a-Heart trap.
We very were fortunate to find an amazing foster mom on Steve Caporizzo's Pet Connection Facebook page. The very next day he was caught in a Have-a-Heart trap around 8pm at which time Kodak's foster mom picked him up. She brought him to her home and has been caring for him until he finds his own new forever home.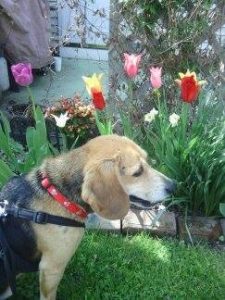 Kodak  was loaded with ticks (which are now all removed) and needed veterinary care, but was otherwise doing just fine.  He was seen by  Dr. Ford at Boght Vet and was given a complete exam, a distemper vaccine, flea/tick meds, and blood work. He is Lyme positive so he is also on antibiotics. He has been given a clean bill of health by the vet and is now ready to find his new forever home!
Kodak's former owner said he was skittish around men but has not shown any aggressive behavior in his foster home, which includes 3 adult men and a 7-year old boy. His foster family has been socializing him and introducing him to many people and places, but he has not yet been exposed to very young children. He enjoys car rides and the company of other dogs as long as they are not aggressive. He will only do well with a very "dog-savvy" cat, as he is a hunter. He loves to stick close to his owner, so keep that in mind.
I have grown very attached to Kodak and want nothing more than to find him a great forever home and family! If you are interested providing a loving forever home for Kodak please contact me online and I will put you in touch with Kodak's foster mom, who is the best!  She can answer any questions you might have or schedule a meet-'n-greet with Kodak.
Someone is going to have an awesome best friend, is it you?
If you are interested in donating to help Kodak's foster mom pay for his vet bills, food and other items she has purchased please visit Kodak's GoFundMe.com page to make a donation. I would like to collect $150-$200 to give to Kodak's foster mom to cover his expenses. Any extra money that we receive will be a part of Kodak's "Paw It Forward" Campaign and will be donated to the Saratoga County Animal Shelter. Any donation amount would be greatly appreciated and will help Kodak's foster mom and The Saratoga County Animal Shelter a great deal!
Sincerely,
Jennifer
The Saratoga Dog Lover