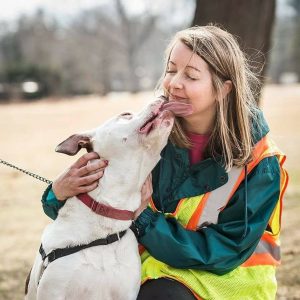 You're an animal lover, or at least a dog lover, otherwise, you probably wouldn't be reading this post, right? Maybe you're thinking of adopting a dog. But you just started school or a new job, or your significant other is allergic or just not ready to take on the responsibility of a dog.
How can you satisfy your urge to nurture and care for a dog and still not rock the boat at home or compromise your school or work schedule?
Have you ever considered volunteering at an animal shelter?
Shelters rely on dedicated volunteers to help with the many jobs and chores that need to be done on a daily basis.
Volunteering at an animal shelter could be a rewarding and life changing experience for you – as well as for many homeless dogs and cats you would be helping. Before you decide to become a volunteer, though, there are a few things you need to consider.
Time Commitment
Making the decision to become a volunteer may require a time commitment on your part.  Some shelters may ask that you agree to volunteer a certain number of hours per month, and they may have specific times that they need volunteers to help. Before you commit, be sure you can accommodate the volunteer schedule.
All shelters will have an application that you need to fill out, either on paper or online. This is the time to learn about the shelter time expected of you and the different kinds of volunteering opportunities available. Maybe you just want to work with older dogs, or perhaps you really enjoy exercising large dogs. You may also find out if you will be required to operate under certain guidelines, or even use certain kinds of equipment.
Get all the info up front
Another important consideration you need to find out about is how the shelter you are applying to volunteer at operates. Fortunately for residents of the Capital Region, we have many amazing shelters whose missions are to provide homeless animals with love and care until they find their forever homes.
Other things you can do
Shelters are always looking for people to help with marketing, public relations, to serve as temporary foster homes, or act as fundraisers for the shelter. If you can pass out flyers about upcoming adoption clinics, or blog about your favorite dog at the shelter, or even just donate items such as toys, blankets and towels, pet beds or pet carriers, you will still be doing an invaluable service to the animals, even if you're not physically there.
You can also consider becoming a foster parent for a dog, while it is getting ready to find its "forever home."  For more information about fostering, read our recent post, "Things to Consider Before Bringing Home a Foster Dog," to learn a lot of valuable information about preparing yourself, your family, current pets and your home for a foster dog.
Visit our Dog Rescue, Shelters & Clinics page to find a local shelter or rescue and learn more about their volunteer opportunities.
Volunteering will be one of the best things you can do for so many pets who need that extra ounce of love, time and attention.