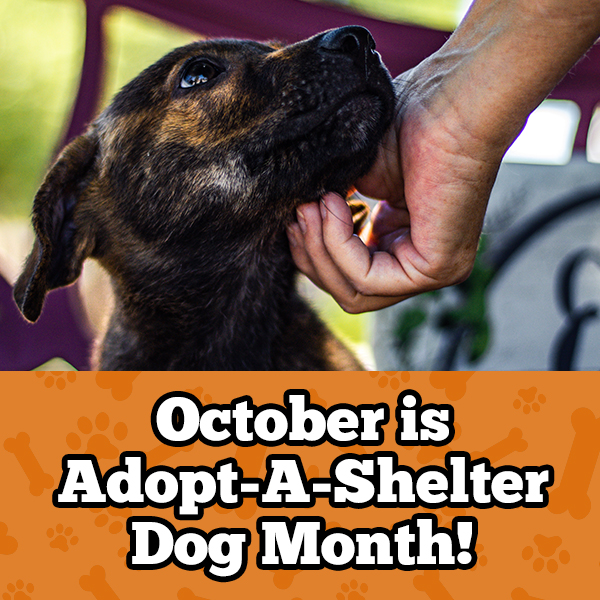 October is here and it's time to adopt a shelter dog in the Saratoga, NY area.
The American Society for the Prevention of Cruelty to Animals (ASPCA) proudly sponsors this event every year to encourage pet adoption from local shelters.
About 3.3 million dogs enter shelters every year for various reasons. Some are turned in because the owner is sick or can't handle the dog anymore and some are found abandoned on the streets. There are numerous reasons dogs end up in shelters and they all need a loving and safe home with their forever family.
Shelters are eager to find the right owner to match each dog. They have specific procedures that include an adoption process such as filling out an application, scheduled visits, and more.
Adopt a Shelter Dog month encourages dog adoption but also has other ways you can get involved such as volunteering, donating, and visiting the shelters to socialize with the dogs.
It also helps if you spread the word by sharing information about Adopt a Shelter Dog month on your social media accounts such as Facebook, Twitter, and Instagram by using the hashtag #AdoptAShelterDogMonth.
This amazing month originated in 1981 by the American Humane Association. Adopt a Shelter Dog month was created to help maintain the growing number of puppies and dogs in shelters. Most shelters offer to spay and neuter the dogs before they are adopted to help stop overpopulation.
Are you excited to adopt a new furry family member?
This October make sure you stop by one of the following shelters to adopt!
Saratoga County Animal Shelter – Ballston Spa, NY
This animal shelter's mission is to promote and protect public safety and animal care through sheltering, pet adoption, education, and supporting law enforcement creating a more desirable community for the citizens and animals of Saratoga County.. They focus on pet adoption and offer affordable fees for dogs and puppies. View their website www.saratogacountyanimalshelter.net to see the dogs currently available for adoption.
Estherville Animal Shelter – Greenfield Center, NY
This Greenfield, NY shelter's mission is to provide a healthy and safe environment for the dogs as they wait to find their forever homes. They provide every dog with veterinary care, food, water, support, and love. This no-kill animal shelter has dogs available to adopt now. Check out their website for further details www.esthervilleshelter.wix.com/adopt.
Fulton County Regional SPCA – Gloversville, NY                                                                                                            
This not-for-profit shelter in Gloversville, NY takes in all abused and homeless animals and focuses on finding them forever homes through adoption no matter how long it takes. You can learn more about their adoption process by visiting their website at www.fcrspca.org.
Mohawk Hudson Humane Society – Menands, NY
This shelter in Menands, NY takes in homeless dogs with the intention to get them all adopted. They feature their available for adoption dogs on their website with information and details about each dog. Check their website out at www.mohawkhumane.org to find your new furry family member today!
The SPCA of Upstate New York – Queensbury, NY
This shelter is the largest no-kill facility located in Queensbury, NY. It was founded in 1959 and is committed to the prevention of animal cruelty. They are a non-profit animal shelter that is dedicated to finding forever homes for all the dogs that enter their doors. Check out their website www.spcauny.org to see pictures and learn details about their dogs.
Now that you know where to adopt your next dog take advantage of Adopt a Shelter Dog Month and start the adoption process. Your furry family member is waiting for you!