The temperature is rising and your dog is having a blast splashing around in their kiddie pool. Make your dog's summer extra special with tasty treats that also help them cool down while playing in the hot sun. You can make homemade cool summer dog treats right in your kitchen. Check out the easy recipes below.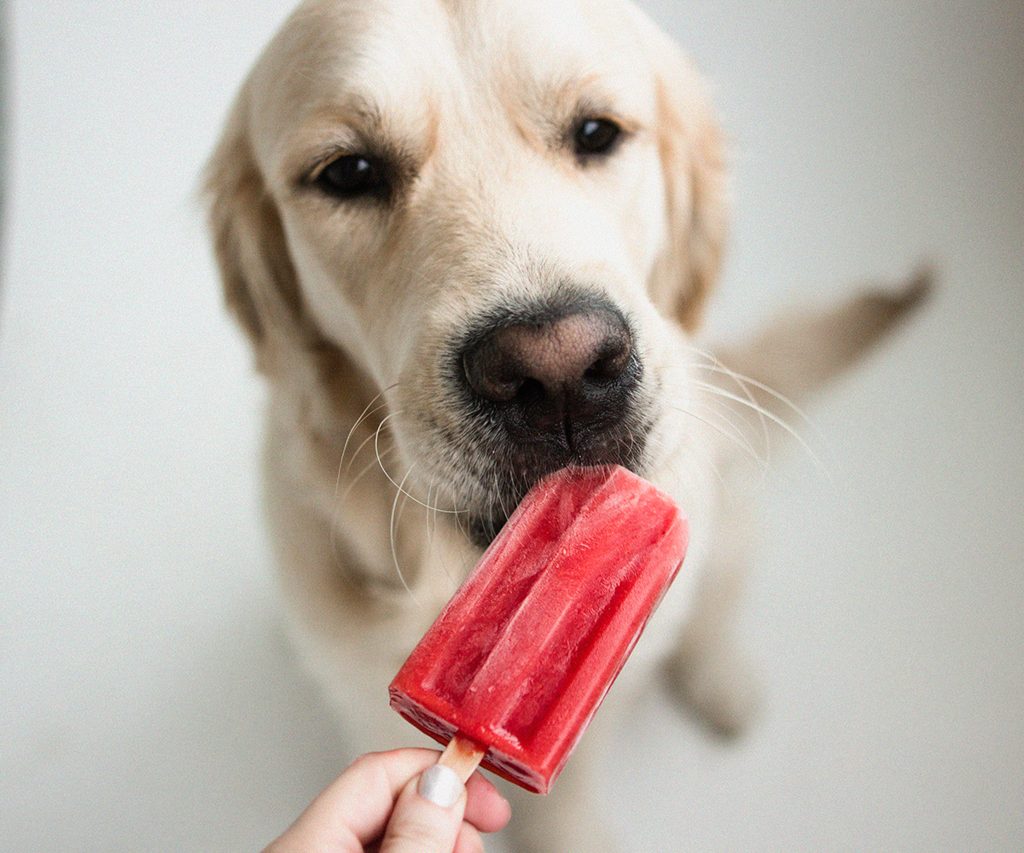 Frozen Fruit Treats
Does your dog enjoy eating fruit? If so, make it a cool snack by freezing peaches, strawberries, and banana chunks. Store them in zip lock bags and keep them in the freezer. The next time your dog is outdoors or has come inside looking hot and exhausted toss them a bite of frozen fruit. They will slowly eat it and the cold temperature will help cool them down. You can even freeze dog-friendly vegetables such as carrots.
Frozen Broth Cube Treats
Freeze bone, vegetable, beef, or chicken broth in an ice cube tray for about an hour and voila you got a healthy summer treat for your dog! You can also get creative by adding a small teaspoon of peanut butter for added flavor. You can get creative with the ingredients by combining savory and sweet to blast your dog's taste buds and give them energy.
Ice Cubes with a Tasty Center
Toss one or two small pieces of your dog's favorite treat into an empty ice cube tray. The treats can be any flavor such as bacon, chicken, lamb, and more. Add water to the tray and allow it to freeze for about an hour. Serve it to your dog in their food or water bowl. You can also serve it outside since the sun will help the ice cube melt and your dog can get to the treat quicker.
Homemade Popsicles
Create your own puppy popsicles by combining plain yogurt with pureed fruit such as strawberries, apples, blueberries, raspberries, pineapple, or cantaloupe. You can get creative and combine flavors you think your dog will enjoy. Once the mixture is a creamy consistency fill an ice cube tray and allow it to freeze for an hour or more. These cool and creamy ice treats are fun for your dog to eat and add vitamins and nutrients to your dog's healthy diet.
Frozen Interactive Toys
Does your dog get bored easily? Fill their favorite interactive toy with frozen fruit bites to challenge and stimulate their minds and appetite. This frozen treat option is best served indoors since the hot summer sun will melt the treats before your dog has a chance to capture them. This indoor treat helps cool your dog down after a long walk or playtime outdoors.
Are you ready to make your dog's summer extra special with these tasty frozen treats? Get started with any of the recipes above and create your own tasty combos using dog-friendly ingredients. Remember, to remove the seeds and rind from all fruits before serving. Enjoy the summer with your dog and don't forget, you can enjoy the frozen fruit bites with your dog too!