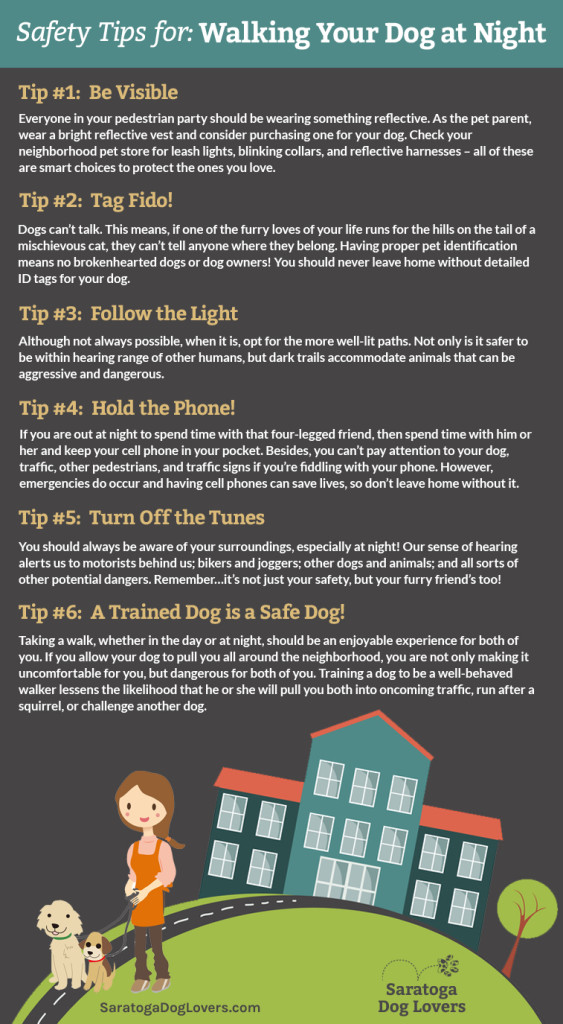 A nighttime walk or jog with your dog (or dogs) in Saratoga Springs NY, is a wonderful time to bond and unwind with one another in the tranquility of the great outdoors! During the winter months, the short days make crisp walks in the dark inevitable. In the summer, mild temperatures and the melodic sound of the crickets make nighttime walks just so darn pleasant!
Whether you live in the city of Saratoga, where there are streetlamps every 20 meters; or in the surrounding countryside of Upstate NY and the Adirondacks, where you rely only on the moon to light your path, here are six basic tips for safeguarding you and your precious pet on your nightly outings.
Tip #1:  Be Visible
Yeah, I know…you would think this goes without saying. However, you would be surprised at how many Saratoga NY dog lovers you don't see until you drive right by them! Everyone in your pedestrian party should be wearing something reflective. As the pet parent, wear a bright reflective vest and consider purchasing one for your dog (they do make dog vests). Check your neighborhood pet store for leash lights, blinking collars, and reflective harnesses – all of these are smart choices to protect the ones you love.
Tip #2:  Tag Fido!
Dogs can't talk. This means, if one of the furry loves of your life runs for the hills on the tail of a mischievous cat, they can't tell anyone where they belong. Having proper pet identification means no brokenhearted dogs or dog owners! You should never leave home without detailed ID tags for your dog.
Tip #3:  Follow the Light
Although not always possible, when it is, opt for the more well-lit paths. Not only is it safer to be within hearing range of other humans, but dark trails accommodate animals that can be aggressive and dangerous (and dogs just love a skunk, don't they?).
Tip #4:  Hold the Phone!
While I do not suggest walking your dog while talking on the phone, cell phones are a necessity in this day in age. If you are out at night to spend time with that four-legged friend that loves you unconditionally, then spend time with him or her and keep your cell phone in your pocket. Besides, you can't pay attention to your dog, traffic, other pedestrians, and traffic signs if you're fiddling with your phone. However, emergencies do occur and having cell phones can save lives, so don't leave home without it (and most cell phones have a flashlight app available now…which is handy).
Tip #5:  Turn Off the Tunes
You should always be aware of your surroundings, especially at night! Our sense of hearing alerts us to motorists behind us; bikers and joggers; other dogs and animals; and all sorts of other potential dangers. Remember…it's not just your safety, but your furry friend's too!
Tip #6:  A Trained Dog is a Safe Dog!
Taking a walk, whether in the day or at night, should be an enjoyable experience for both of you. If you allow your dog to pull you all around the neighborhood, you are not only making it uncomfortable for you, but dangerous for both of you. Training a dog to be a well-behaved walker lessens the likelihood that he or she will pull you both into oncoming traffic, run after a squirrel, or challenge another dog. Check out Saratoga Dog Lovers directory of Saratoga, Clifton Park, and Glens Falls NY dog trainers and obedience schools for assistance in better walking behavior.
Love your doggie, but don't always have the time to walk them? Hire Saratoga Springs, Clifton Park, Malta and Glens Falls NY dog walkers to make sure your furry friend gets a dose of fresh air every day!
Happy walking!
Click here to see the safety tips for walking your dog at night infographic!