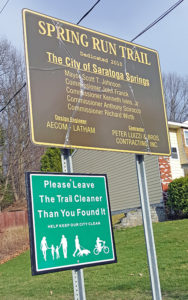 While there are plenty of dog parks and dog walking trails in Saratoga Springs, Spring Run Trail is unique with its remarkable history and scenery. It is a one-mile paved trail on an old railroad bed surrounded by beautiful woods and wetlands.
During the spring, summer, and fall, you will enjoy the pleasant bridges and impressive greenery and foliage. This is a great morning, lunchtime, after work, or just before dark jaunt to take with your dog – just be sure to keep an eye out for bikers and joggers.
The railroad bed that Spring Run Trail sits on was used during the 1800's to shuttle passengers between downtown and Saratoga Lake, with stops at mineral springs along the way. In 2010, construction of the trail was completed, incorporating some Victorian-era railroad features into the trail design. Original railroad mileage markers can still be seen.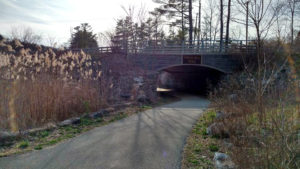 This gem of a trail is owned and operated by the City of Saratoga Springs for the public's use, so please be sure to clean up after your pet and keep them leashed…this is NOT an off-leash trail. Please check Saratoga Springs Dog Parks for off-leash parks where your dog can play freely. Remember, not all dogs are friendly, so please be sure to ask the owner before your dog approaches another dog.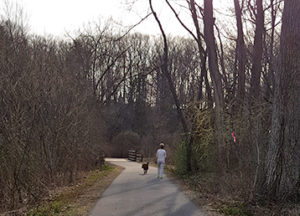 Spring Run Trail is located between East Street (south of Excelsior Avenue) and I-87 of the Adirondack Northway. Access to Spring Run Trail is located at the intersection of East and Excelsior Avenues.
For more information on anything "dogs" in Saratoga Springs, check out The Dog Directory, along with upcoming dog events in Saratoga, or contact us with questions about Saratoga dog-related inquiries!