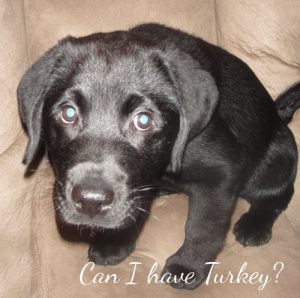 Thanksgiving is here and it's one of my favorite holidays! I am pretty sure it is my dog Tucker's favorite holiday as well. Four to six hours of amazing smelling food aromas lingering around the house, what dog wouldn't love that! How will your dog be spending Thanksgiving? Tucker will spend the day on the prowl begging and searching for dropped food on the floor. Thanksgiving is the one of the only days of the year they get to enjoy people food with their dinners cooked fresh that day. Looking for healthy choices to give your dog on Thanksgiving?
Here are a few healthy Thanksgiving options for your dog:
White meat turkey (without the skin)
Baked or sweet potatoes
Plain steamed string beans, carrots, or broccoli
Canned pumpkin (not pumpkin pie filling just plain pumpkin)
Chicken broth, salt free
Raw apples, cut up or sliced
Not sure if something is good for your dog to eat? When in doubt leave it out, better safe than sorry. Turkey bones, onions and stuffing are not good food choices to give your dog on turkey day. After my dogs and I eat a delicious Thanksgiving dinner our favorite thing to do is cuddle on the couch and take a nice nap.  So there you have it, treats to make Thanksgiving special for everyone, including your dog. Enjoy!