The sad fact is that finding a placement for a senior dog that has been brought to a shelter can be difficult at best. The Mr. Mo Project is a non-profit dog organization in Clifton Park, NY, founded by husband and wife team Chris and Mariesa Hughes, who felt that senior dogs deserve to live out the remainder of their lives in a home where they are loved. The program is named in honor of their late and cherished senior dog, Mr. Mo.
The Mr. Mo Project is run by Rowdy To The Rescue, a 501c3 non-profit group that provides education about animal-friendly ways to control animal overpopulation and to rescue companion animals from kill shelters by placing them in forever homes. Team Mo at The Mr. Mo Project thinks all senior dogs deserve to live out their remaining years in a loving home and work hard to rescue senior dogs all over the country in two different ways:
Providing the necessary funds for medical expenses to owners considering placing their pooch in a shelter due to high expenses or illness so that dog and owner can remain together.
Rescuing senior shelter dogs at risk for euthanasia by pulling them, paying for vet bills, and transporting them by air or land anywhere in the country to their forever home.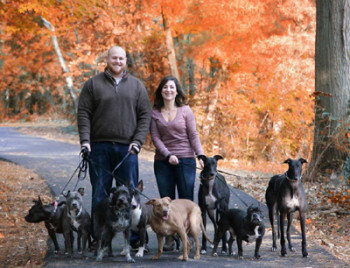 From Good Morning America to The Huffington Post, The Mr. Mo Project has received prominent media coverage! Totally devoted to their cause, their website prominently displays pictures of treasured pups that were given a second chance through this wonderful program.
The Mr. Mo Project relies entirely on the generous donations from Team Mo Sponsors and the Mr. Mo rescue community, which gives veterinarian medical assistance, free transportation to their forever homes, and other benefits to program dogs.
If you would like to provide a comfortable, happy home for a senior dog that needs a second chance to enjoy the remainder of his or her years, you can fill out the online foster application on their website. Or, if you would like to donate to the Mr. Mo Project veterinary fund, 100% of proceeds directly benefit the dogs in this non-profit program. If you need financial assistance in keeping a senior dog in their home, you can request assistance online.
Want to learn more about The Mr. Mo Project and the work they are doing for senior dogs in need? Check out their website!