There's nothing better than enjoying a stroll through nature with your best furry friend in tow. And with four beautiful seasons to experience here in Upstate New York, there's no reason why the fun should stop come wintertime. With our winter tips, you'll be fully equipped for your next outing, so you can spend less time stressing and more time appreciating the great outdoors.
An Ounce of Preparation
Ready to dive right in to your next wintertime adventure? Before you begin lacing up your snow boots, it's worth taking a moment to plan some details of your excursion–for both you and your traveling companion. Consider the breed, size, temperament, and fitness level of your dog when scoping out possible opportunities for outdoor recreation. Factors such as terrain, snow depth, and proximity to people or other dogs are important to evaluate before setting your destination. If your dog spooks easily, a mountainous path well-traveled by skiers may make for a more stressful outing. Similarly, a Yorkshire Terrier isn't likely to take to deep snow with the same enthusiasm as an Alaskan Malamute.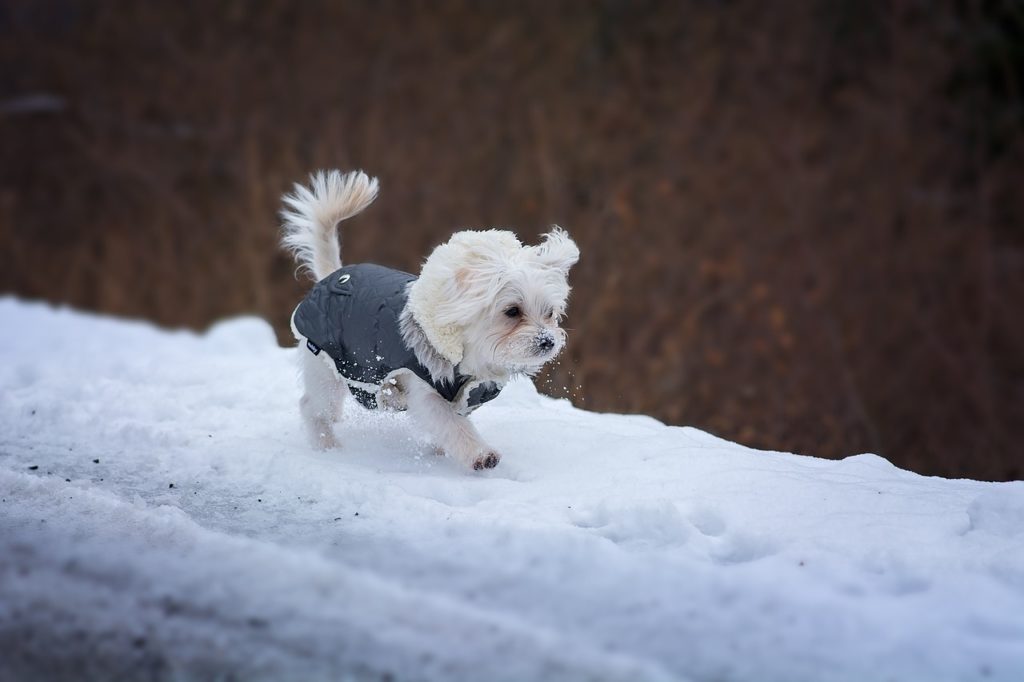 Suit Up
All bundled up to brave the elements? Don't forget Fido. A sturdy winter coat will keep your pet safe and cozy outdoors all season long, whatever the weather. Choose one with synthetic insulation and a waterproof shell to ensure your dog remains warm and dry while they're dashing through the snow. This is especially important for dogs with short or sparse fur coats and breeds that are more naturally disposed to warm climates.
You may also wish to consider investing in some winter boots for your furry friend. Dog boots can be found in a variety of styles and help to protect your pet's feet from hazards such as extreme cold, clinging ice, and salt or chemicals on paved roads. Regardless of what type you choose, make sure that your dog is properly acclimated to them before hitting the road!
Ready for Anything
A well-stocked pack is essential for any kind of outdoor activity, and winter hikes are certainly no exception! Make sure yours is loaded up with plenty of fresh water and healthy snacks for both you and your pet (as well as any bowls or supplies you might need for serving). When temperatures are below freezing, don't forget to take extra precautions – a thermal pack can help to keep water insulated, and be sure to select treats for your dog that will remain soft and easy to chew when cold.
A first aid kit is another adventuring must-have for people and pets alike, and you likely already have one in your home. Consider investing in a few essential pet-specific items that can be added to your existing kit. Dog aspirin, pet-safe antibiotic cream, and styptic pencils are all inexpensive and easy to keep on hand for minor incidents.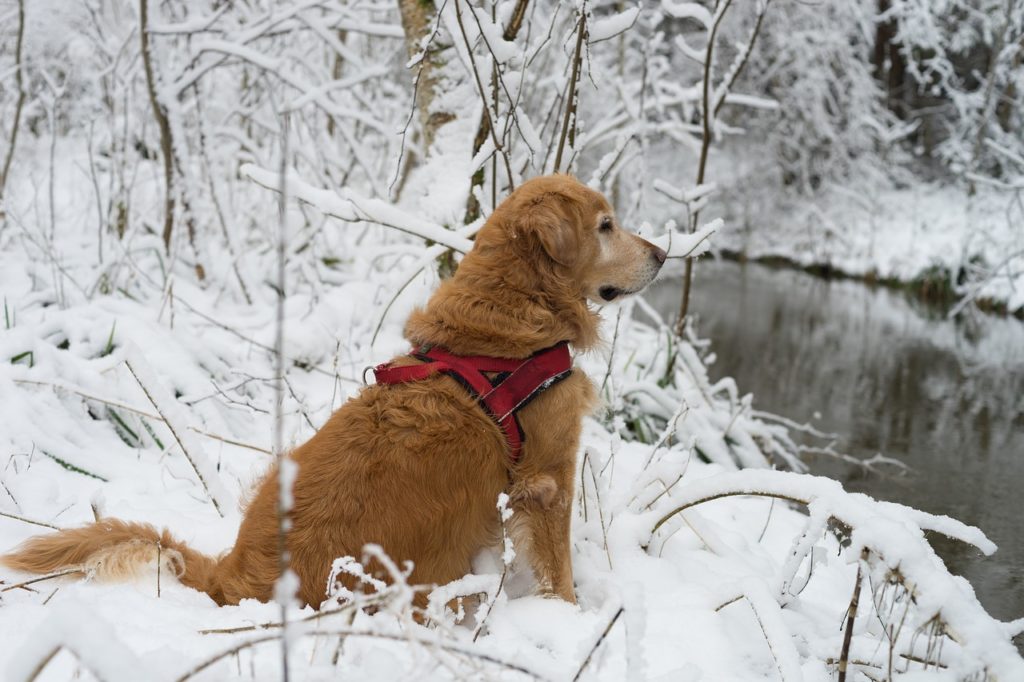 What to Watch For
A beautiful snowy day is truly worth experiencing firsthand, but winter weather brings with it certain hazards. By knowing the risks, you'll be ready to navigate whatever challenges the weather might bring. Be aware of the symptoms of conditions such as hypothermia and frostbite, and learn to recognize them in your dog. Signs of hypothermia in dogs may include changes in breathing and heart rate, uncontrollable shivering, and weakness or fatigue. In cases of frostbite, affected areas may appear very pale, bluish, and cold to the touch. If your dog begins to show any of these signs, take steps to warm them as quickly as possible, bringing them indoors if necessary.
Armed with these tips, you and your pal should be more than prepared to take on whatever winter adventures await you. So go on – grab your parka, pack, and pooch, and go make some memories out there! Happy hiking!