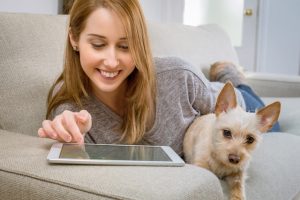 Owning a dog is one of the most rewarding and enjoyable experiences in life. Ask any dog owner and they will tell you there are few relationships more rewarding than the bond you share with your beloved pup. That being said, it can be a daunting and stressful task finding suitable living arrangements for you and Fido if you are a renter or live in a city where apartment/condo style residences dominate the landscape.
So, what are some ways to make life with a dog in an apartment more enjoyable and stress free for you, your neighbors, and of course, your faithful companion? This guide will give you some ideas and tips for getting the most out of your time with your pup no matter where you live!
Know the Rules
When you and your pup starting looking for a new place to call home, make sure you start off by inquiring about any rules and regulations regarding animals right off the bat with your prospective landlord. Some will allow only cats and some will only allow small dogs or dogs of a certain breed. Making sure everyone is on the same page before moving forward will prevent heartache and disappointment down the road. Another thing to consider when looking for a new apartment is its location and proximity to parks or great walking paths and trails, preferably away from busy main roads and traffic.
Choose a dog that fits your lifestyle and your disposition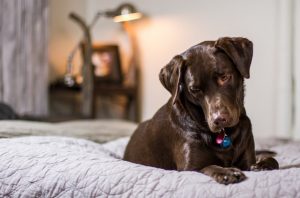 If you already live in an apartment and you're thinking of getting a dog, consider visiting a local rescue or animal shelter and adopting a slightly older dog. Oftentimes adult dogs are overlooked simply because of their age, and it's a shame. Consider these points: a slightly older dog will most likely already be house trained and have overall good behavior, which is a big plus anywhere but especially in an apartment, where pet damage could forfeit your security deposit. I can't stress this point enough! If you aren't dead set on a puppy, really consider a senior dog from the shelter.
On a similar note, if you are not yet a dog owner and are an apartment dweller, your first thought might be that you are restricted to smaller dogs because to accommodate a smaller living space – but this isn't always the case! Each apartments has different requirements. Though it's true some landlords may have weight limitations, others are more concerned about breed and disposition. Make sure you get all the details about what is and isn't allowed before you start you search for your new best friend.
It's also important to note that dogs come in all different types of temperaments! Though people often think small dogs are easier and quieter, dogs' personalities are just as diverse as ours. When you visit your local dog adoption center, let them know that you live in an apartment and would prefer a dog that would fit well in that environment. They'll be happy to help you find a companion that will thrive in your new home.
Don't forget – any dog can be trained, so always choose the dog that speaks to your heart, regardless of their size or breed.
Get acquainted with your neighbors
People often make assumptions and draw conclusions about different types of dogs before they have all the information. If you see your neighbors outside your building, in the parking lot, or in the hallways, go out of your way to introduce them to your dog, so they can see that your dog is friendly and lovable. A neighbor is much less likely to complain about a dog they know and love who occasionally barks, than a strange dog they may be afraid of.
A tired dog is a happy dog!
Apartment living means less room for your dog to run around, but that just means more time for the two of you to get out in the fresh air together! At a minimum, your pup should get 15-20 minutes of exercise twice per day. A couple of walks around town, romps in your local dog park or puppy play-dates with the neighbors will go a long way to making sure your dog is healthy and happy.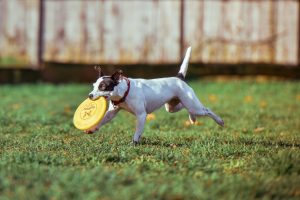 If you own a dog that is a little higher energy, it might be a good idea to hire a dog walker to come and play with your buddy while you are at work. There are so many benefits of having your dog exercised and being social. And you'll feel less guilty leaving them alone all day knowing they are getting love, stimulation and exercise.
Alternatively, you may want to consider sending your dog to doggy daycare, where your pup can get a day filled with play, exercise and attention. These services are a great alternative for working dog parents who don't want to leave their dog  home alone during the work week.
There's lots of Saratoga Springs, NY pet friendly apartments and living options out there for current and prospective dog owners. So don't let your living situation be a deterrent to finding your best friend!