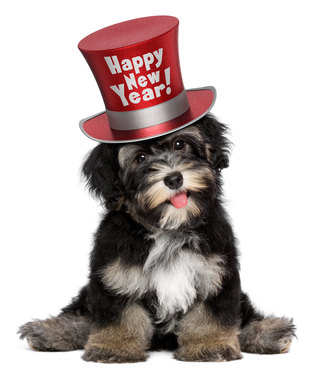 Happy New Year! New Year's Eve is often seen as a time to start anew. We all come up with the typical resolutions for the upcoming year (losing weight, seeing family more often, getting a new job, etc.). Why not start with a New Year's resolution or two that involves your four-legged best friend? Need a few ideas? Here are seven New Year resolutions for your dog or pet to make this year their best year yet!
1. Visit a Vet
Annual exams by your veterinarian in Saratoga Springs, NY are a key component of good preventive care. Common medical conditions in older pets such as diabetes, thyroid disease, arthritis, or obesity are much easier to treat or manage when detected early on. Veterinary visits also give you the opportunity to talk to your vet about anything unusual that may be going on or get advice on your pet's food and dietary needs.
2. Help Others
It is proven that dogs bring joy and happiness to others. There are many ways you can give back with your dog in the community. Locate a Saratoga area trainer and take a therapy dog class, and sign up to visit the sick or elderly with your pup and bring a smile to their faces!
3. Check Their ID & Get Microchipped
Over 50,000 dogs every year can't find their way home because they haven't been microchipped – don't let your dog be part of this statistic. A microchip is a great way to make sure your pet can be positively identified if you ever get separated due to animal or human mistakes, theft or emergency. For more information about pet microchips contact your veterinarian. Make sure your dog also has adequate ID, with updated contact information.
4. Eliminate Behavioral Problems
Nothing prevents an owner from enjoying their dog like persistent behavior problems. Identify any issues like jumping up on the counter, eating your shoes or nipping at your kids and find a Saratoga Springs dog obedience trainer to consult with on how to eliminate the behavior. He or she may recommend a private in-home training or group session to help strengthen the bond between you and your dog. Dog training doesn't take long if you do it consistently. In a couple of weeks, you can train out behaviors you don't appreciate so you have a dog that is enjoyable to be around.
5. Grooming & Oral Hygiene
Grooming your dog and brushing his or her teeth has many benefits. Grooming your dog removes excess fur from the coat, reducing the amount you get on your furniture and clothing. It also helps distribute oils from the skin to the fur, keeping your dog's coat shiny and healthy. Brushing your dog's teeth on a regular basis can help prevent dental disease. The best part? Daily grooming can be a good bonding activity between you and your pet.
6. Get Active!
From hiking in the Adirondacks to snow shoeing to kayaking, it's easier than ever for people in the Upstate NY area to incorporate their pet into their exercise routine. It's a great way to bond with your dog, while maintaining a healthy and active lifestyle. Meet-up groups are a great way to find like-minded people who love dogs and exercise too!
7. Consider Fostering
You have been considering getting a new pet, but you're not 100 percent sure what breed/type of dog is right for you and your family? Try fostering. Many animal shelters and rescues in the Saratoga Springs area need loving homes to provide safe and temporary living arrangements for dogs. It's the perfect way to test the waters without the lifelong commitment, since you are simply hosting a dog while they wait for their forever home. Who knows? Their forever home just might end up being yours.