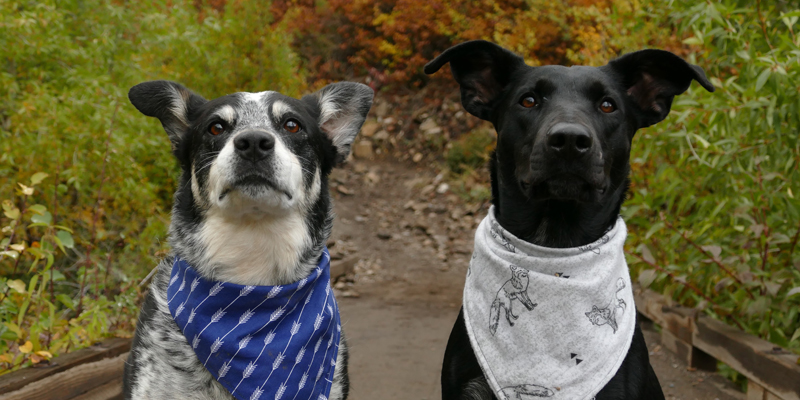 Dog & Owner Trail Etiquette
Hiking is an excellent way to give both yourself and your dog some physical and mental exercise, but do you know basic trail etiquette for hiking with your dog? Yes, it's a thing! There are dozens of great trails to hike, bike and walk throughout the Saratoga County region that you can share with your 4-legged friend!
Hitting up a trail instead of a normal walk around your neighborhood gives you a change of scenery and can give your pup a new area to explore and get excited about. If you're looking to take a little outdoor adventure with your dog, make sure you're prepared with some basic tips for trail etiquette for hiking with your dog. Following these guidelines helps ensure that the trail stays clean and safe, and that you and all other hikers have the best possible experience.
Top 3 Trail Etiquette Tips for Hiking With Your Dog
1. Do Your Homework
Before you head out for the day, make sure to educate yourself on any area-specific rules or regulations for hiking with dogs:
Ok to go? Make sure the trail allows dogs, and if so, that they are no weight or breed restrictions.
Be aware of leash laws! Some trails may have no problem with dogs being off-leash, whereas others may have designated off-leash areas, or require your dog to be leashed at all times with a non-retractable leash.
Learn about the trail. Be sure to educate yourself on any features of the trail that may be difficult for your dog to traverse, such as steep climbs, stairs, fire towers, ladders or crowded cabins.
Can your dog do the trail? Have a good understanding of your dog's fitness level in relation to the length and difficulty of the trail. Medical conditions like old age, obesity or joint problems can make a medium or long hike difficult for your pup, so try something shorter first! If you're concerned, don't forget you can always get advice from your veterinarian on what you're dog is comfortably capable of!
Being prepared is one of the best ways to make sure you have an enjoyable time, so make sure you research any trails you have in mind first.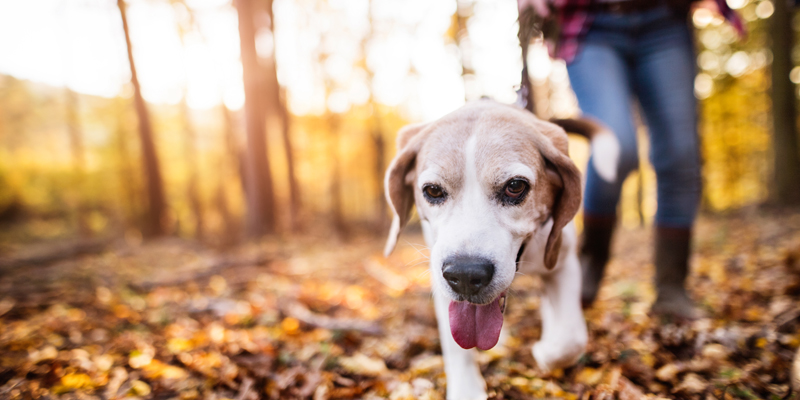 2. Basic Commands & Obedience for Hiking
There's no doubt that your dog will be extra excited to explore a whole new area! Before you leave, make sure you feel completely confident basic dog training commands. You must follow local leash laws regarding activity on the trail, but if your dog does for some reason get off leash, there are a few basic commands your dog must follow when you're hiking or walking:
Sit and stay, for when you're yielding to other hikers.
Basic recall, so that you can call your dog back to you if they start to chase one of the many critters you may encounter along the way.
Drop it and leave it commands, for anything your pup may think is tasty along the way. For their health, it's important to not let them drink from stagnant water or eat any stray food or toxic plants they may find.
Hiking can be extra exciting for both of you, so knowing these commands will come in handy along the way! Once you and your dog are feeling confident, make sure you don't forget to pack these few important things:
A legible, secured tag attached to your dog with contact information.
A leash, even if you plan on having them off-leash in case they need to be secured around other people or dogs.
Some food for your dog to snack on if you're expecting a long hike.
Some fresh water, so that you're dog isn't drinking out of stagnant puddles or ponds that could make them sick.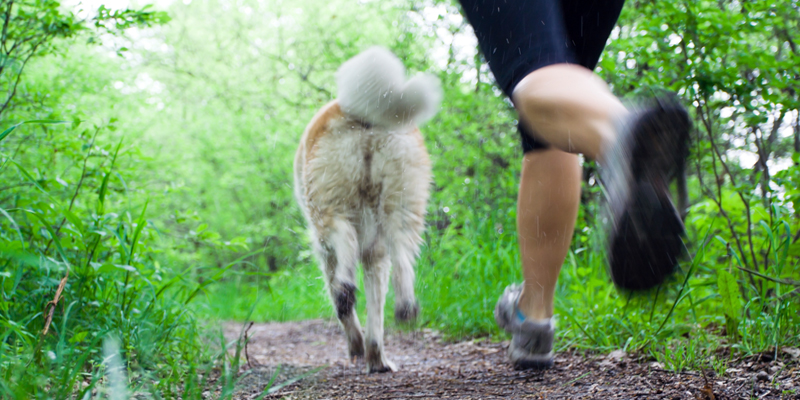 3. Share The Trail!
Got your leash and snacks packed, and a dog that's ready to go the distance? Then it's time to hit that trail! Once you're ready to start your adventure, make sure you keep this basic trail etiquette in mind:
Always stay on the trail! This is great trail etiquette whether you have two or four legs. For your safety and the health of the trail, stay in the areas that are clearly marked and don't let your dog wander away from it.
Keep your dog in range of your at all times, both in terms of sight and sound. You want to make sure that if other hikers are approaching, you can easily and quickly call them back to you if they aren't leashed.
Respect your fellow hikers! It's common for those with pets to yield to other hikers and to keep your dog with you as they pass. Be aware that others may be uncomfortable with dogs, so it's good to keep your dog with you and ask if your dog can approach.
Respect other dogs, too! Some dogs might be still working on some social or aggression issues, or might just be a bit timid or overly excited! When you encounter other dogs along the trail, keep your dog with you and ask the owners if it's okay to approach and socialize.
Carry out any dog waste or follow the same rules as with human waste: it must be at least 6″ deep and 200 feet from water.
Respecting these rules are the best way to make sure hiking trails stay safe and clean for all Saratoga dog lovers to continue using. If you can keep this trail etiquette in mind, you and your dog are sure to have quite an adventure!
Looking for other ways you and your pup can get some fresh air? Try some of these other locally-inspired activities!