LEARN MORE & VIEW SPONSORSHIP FORM
The Saratoga County Sheriff's Office K-9 Unit is conducting its Annual Calendar Fundraiser in cooperation with our partners at the Saratoga County Animal Shelter. We again are seeking sponsors to be featured in this year's calendar to help support the unit's mission and adequately care for the needs of our four-legged partners.
The purpose of the K-9 Unit Annual Calendar Fundraiser is to raise much needed funding for K-9 medical care and safety equipment.
Presently, the Saratoga County Sheriff's Office works with the Saratoga County Animal Shelter for at-cost primary K-9 medical care and routine check-ups. The assistance our K-9 Unit receives on a regular basis thanks to the staff of the Saratoga County Animal Shelter is invaluable.
In the event specialty diagnostic and care services are needed, outside veterinary service providers are utilized. As one can imagine, the need for specialized K-9 medical care can at times be unpredictable and quite costly which is why the Sheriff's Office K-9 Unit relies on funds raised by the Calendar Fundraiser to supplement funding provided through Sheriff's Office annual operating budget.
Additionally, these funds help outfit our K-9's with important safety gear such as ballistic/stab proof vests, which can cost in excess of $1,000 each, and training supplies to ensure out K-9's and their handlers are properly trained for any scenario they may encounter while serving our communities.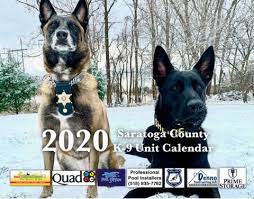 The 2022 Calendar will as always feature the current K-9's and handlers who make up the unit. Additionally, we are working to feature a memorial section which will pay tribute to K-9's who have served our agency throughout the years but are no longer with us.
Your sponsorship will exclusively benefit the K-9 Unit and ensure that we can continue to provide the best possible care and equipment for the K-9's who work day in and day out to help keep our growing county a safe place to live, work and raise a family.
This year's calendar will feature three sponsorship levels:
Gold – $500 Donation
Gold level ads include sponsor's full color large logo printed on calendar cover (Limited spots available)
Silver – $150 Donation
Silver level ads include sponsor's full color logo or contact information printed on one of the calendar months.
Bronze – $50 Donation
Bronze level ads include sponsor name and contact information printed on the bottom of one of the calendar months or inside the back cover of the calendar.
The success of our unit relies heavily on the generous support of the communities we serve. We hope you will consider supporting our calendar fundraiser!
LEARN MORE & VIEW SPONSORSHIP FORM
Best regards,
Sheriff Michael H. Zurlo